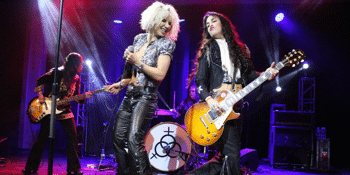 Lez Zeppelin (USA)
Barwon Club Hotel (South Geelong, VIC)
Sunday, 31 July 2022 6:30 pm
Lez Zeppelin (USA)
All female, all Zeppelin AUS tour 2022
"The most powerful all-female band in rock history" New York rockers Lez Zeppelin are back in Australia and heading to The Barwon Club on Sunday 31st July.
Formed in 2004, LEZ ZEPPELIN is the longest running and most successful Led Zeppelin tribute band in the world.
They've been featured on BBC, CNN, ABC, CBS, FOX and MTV. They've featured on numerous festival bills, including Hellfest (France), Rockstock (Canada), Concert for Mumbai (India), Beerfest Asia, Download (UK) and Rock on The Range, and over 1000 concerts on every continent for the past 15 years.
The ultimate compliment came from Jimmy Page who when he first attended their performance was compelled to say, "They played the music with such sensual passion and energy I couldn't help but stay all night" and Joe Perry of Aerosmith claiming "I've never heard it done better"

6:30PM DOORS
7:00-7:50PM 1ST SET
8:20-9:10PM 2ND SET

We acknowledge that the Wadawurrung People of the Kulin Nation are the traditional custodians of the land on which we operate. We pay our respects to Indigenous Elders past, present and emerging. Sovereignty has never been ceded. It always was and always will be, Aboriginal land.