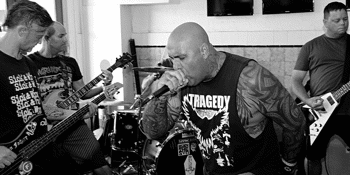 Human Failure
with special guests Mortuary Sickness, Endless Bore, Get Rekt and Serotonin Malfunction
Barwon Club Hotel (South Geelong, VIC)
Friday, 7 October 2022 7:00 PM
Human Failure
- Hardcore/Crust Punk/Metal from Newcastle (NSW), first time in Victoria!
FFO: His Hero Is Gone, Amebix, Bolt Thrower, Napalm Death, At The Gates
https://humanfailure.bandcamp.com/
With support from:
Mortuary Sickness
- Local Death Metal
https://mortuarysickness.bandcamp.com
Endless Bore
- Melbourne Hardcore Punk
https://endlessbore.bandcamp.com
Get Rekt
- Local Crossover Thrash
https://getrektthrash.bandcamp.com
Serotonin Malfunction
- Local Doom
7PM DOORS OPEN
7:15-7:55PM SEROTONIN MALFUNCTION
8:10-8:50PM GET REKT
9:05-9:45PM ENDLESS BORE
10:00-10:40PM MORTUARY SICKNESS
10:55PM HUMAN FAILURE
We acknowledge that the Wadawurrung People of the Kulin Nation are the traditional custodians of the land on which we operate. We pay our respects to Indigenous Elders past, present and emerging. Sovereignty has never been ceded. It always was and always will be, Aboriginal land.