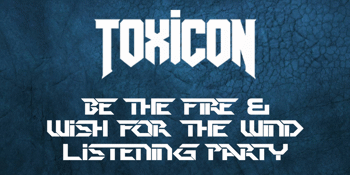 Toxicon "Be The Fire & Wish For The Wind" Listening Party
Barwon Club Hotel (South Geelong, VIC)
Saturday, 20 August 2022 7:00 pm
A get together with the band to celebrate and listen to the new album "Be The Fire & Wish for The Wind".

Held in The Barwon Club Hotel Band Room, this is a good excuse to come catch up with the band, drink beers and listen to the new album in its entirely before it drops on September 2nd.

The night starts at 7 PM and will end at close of doors. The album will be played at 10 PM.

Entry is free, dress code is semi formal and there will be a raffle on the night with a meat tray because FUCK YEAH MEAT TRAY!!!!

We will keep some tables and chairs in the band room so feel free to come at 7 and have dinner too.

We hope to see you all there!

We acknowledge that the Wadawurrung People of the Kulin Nation are the traditional custodians of the land on which we operate. We pay our respects to Indigenous Elders past, present and emerging. Sovereignty has never been ceded. It always was and always will be, Aboriginal land.