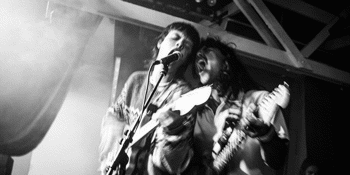 STIMPIES
Good Sniff and Operation Karma
Barwon Club Hotel (South Geelong, VIC)
Friday, 1 July 2022 8:00 pm
Stimpies' music and aesthetic embodies an exploration of the Australian lifestyle, the burn of the seatbelt getting into your car in 45 degree weather, the refreshing and repetitious comfort of wave after wave at the beach.
Joining Stimpies at The Barwon Club will be Good Sniff and Operation Karma!

8PM DOORS OPEN
8:30-9:10PM OPERATION KARMA
9:30-10:10PM GOOD SNIFF
10:30PM STIMPIES

We acknowledge that the Wadawurrung People of the Kulin Nation are the traditional custodians of the land on which we operate. We pay our respects to Indigenous Elders past, present and emerging. Sovereignty has never been ceded. It always was and always will be, Aboriginal land.