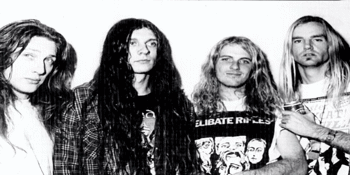 FRIDGE
With special guests Rootbeer and Ape Rib
Barwon Club Hotel (South Geelong, VIC)
Saturday, 16 July 2022 7:00 pm
FRIDGE started out in Tasmania in 1991 but moved to Melbourne not long after to show to all and sundry their appreciation and fabulous execution of scuzzed out fuzz rock.

They quickly grew an affinity with both the Melbourne and Geelong crowds, playing many a show in each town and gracing the stage with such luminaries as Cosmic Psychos, Spiderbait, Bored!, Tumbleweed, Hard Ons, The Meanies, Celibate Rifles - you get the gist.

FRIDGE released a couple of cracking singles and the albums Space Junk and Cactus and you'll hear all those songs and more when FRIDGE hit the BARWON CLUB stage on Saturday 16th July.

They'll have some mates along, namely Rootbeer (back from the dead) and Wollongong noise rock outfit Ape Rib.

Tickets are $25 plus booking fee via the BCH and $30 on the door if there are any left! Get onto it.

We acknowledge that the Wadawurrung People of the Kulin Nation are the traditional custodians of the land on which we operate. We pay our respects to Indigenous Elders past, present and emerging.