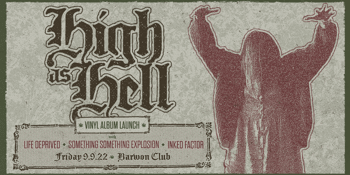 High As Hell "Razorblade Dream" Vinyl Launch
With special guests Life Deprived, Something Something Explosion and Inked Factor
Barwon Club Hotel (South Geelong, VIC)
Friday, 9 September 2022 7:00 pm
The long awaited debut album on vinyl from Geelong locals High As Hell is here! "Razorblade Dream" was released amongst the strangest time this world has seen and as such the lads were left with their debut album in their hands, unable to play or tour. Fast forward two years and everything has changed. The boys have toured the east coast relentlessly since restrictions have lifted and are now armed with their first vinyl release.

Venture down to the Barwon Club on Friday September 9 to witness High As Hell unleash the rock 'n' roll fury from "Razorblade Dream" as well as select new cuts.

Joining them on the night will be a well rounded bill of local surf coast acts Life Deprived, Something Something Explosion and Inked Factor.

Do not miss this action packed night of rock 'n' roll mayhem at The BC!

7PM DOORS OPEN
7:30-8:10PM INKED FACTOR
8:30-9:10PM SOMETHING SOMETHING EXPLOSION
9:30-10:10PM LIFE DEPRIVED
10:30PM HIGH AS HELL

We acknowledge that the Wadawurrung People of the Kulin Nation are the traditional custodians of the land on which we operate. We pay our respects to Indigenous Elders past, present and emerging. Sovereignty has never been ceded. It always was and always will be, Aboriginal land.