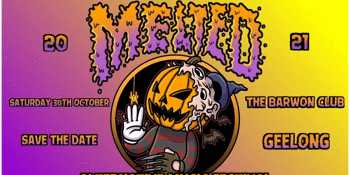 Melted 2022 (One Good Scare)
Barwon Club Hotel (South Geelong, VIC)
Saturday, 29 October 2022 4:00 pm
Mask, QR code check in & proof of double vaccination mandatory upon entry.
MELTED is back and ready for the 2022 spooky season!
Headlined by Geelong metal powerhouse Toxicon, the festival falls on legendary October 29th – historically referred to as Mischief Night, or in some circles Devils Night.
Joining Toxicon will be an array of VIC's best and brightest, including Crosstrack, Miseryguts, and a whole lot more to be announced soon.
Grab your ticket and stay tuned for more exciting announcements coming your way!
We acknowledge that the Wathaurong People of the Kulin Nation are the traditional custodians of the land on which The Barwon Club Hotel operates. We pay our respects to their elders past, present and emerging.