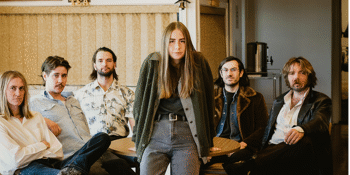 Foggy Notion 'Goin Up Country' Tour
Quality Used Cars & Watty Thompson with band.
Barwon Club Hotel (South Geelong, VIC)
Friday, 29 July 2022 8:00 pm
Foggy Notion are a six piece rock-n-roll country band, scattered around the Northern suburbs of Melbourne.
Foggy have created a fresh new twist on country music, without losing sight of their heroes- the pioneers of tradition and timeless style. They revive the past, and shed light on the new, performing to crowds from all walks of life. Consisting of Tim Ryles on drums, Declan 'Danger' Stewart on bass, Thomas Moors on guitar, Mitchell Beulke on lap steel and Shyam 'Screamin' Baby' Carroll on harmonica, 'the boys', lay a solid foundation down for lead vocalist, Maxine Fink.
A band breathing life in a time much needed, a band that can truly lift your spirits in a matter of minutes, a band well worth your time. Foggy Notion is an experience within itself.
The band will be touring their latest album 'Volume Two', available now on all streaming sites.
Links:
Review: https://www.i94bar.com/albums/foggy-notion-s-second-dose-of-irreverence-cuts-through-the-lockdown-haze
Spotify: https://open.spotify.com/artist/26e4UO2Eq4ltikpBAsBV7t
Insta: https://www.instagram.com/foggynotionmelb/?hl=en
Facebook: https://www.facebook.com/foggynotionthedenrecords

We acknowledge that the Wadawurrung People of the Kulin Nation are the traditional custodians of the land on which The Barwon Club Hotel operates. We pay our respects to their elders past, present and emerging.