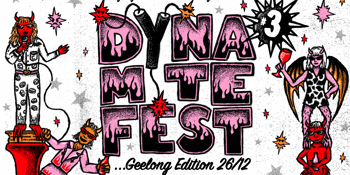 Tommy Dynamite & B. Bookings present
DYNAMITE FEST 3: GEELONG EDITION
Barwon Club Hotel (South Geelong, VIC)
Tuesday, 26 December 2023 3:00 pm
DYNAMITE FEST 3: GEELONG EDITION!
Join us for The Barwon Club's last big event for the year and the first time Dynamite Fest has been held in Geelong!

Featuring...
OUR CARLSON
TOMMY DYNAMITE & THE EXPLOSIONS
DADDY ISSUES
GLAS NOST
EYEROLL
SARGENT BAKER
PARAQUAY
OPERATION KARMA
MUNDANE JANE
WILD GLORIOSA
THE GRIMWOODS
MELONADE
CHUNKY LOVE
SHANITA VICE
PALEO DISCO
DANGERBOOTS
BUGG
CRUELLA DE COWGIRL
Bands in the band room
DJs in the beer garden
3pm - 1am event.

The Barwon Club Hotel Geelong enforces a zero tolerance harassment policy. All attendees will treat one another with respect; regardless of race, creed, sex, age, visible and non viable disabilities, gender identity and sexual orientation. Attendees will not display verbal, nonverbal or symbolic representations of disrespectful or hateful ideology. Violation of this policy will result in immediate ejection from the venue. If you feel uncomfortable or unsafe then please do not hesitate to reach out to one of our bartenders, security staff or door persons. Any issues will be dealt with discreetly and at your discretion.

We acknowledge that the Wadawurrung People of the Kulin Nation are the traditional custodians of the land on which we operate. We pay our respects to their elders past, present, emerging, future. Sovereignty has never been ceded. Always was and always will be.