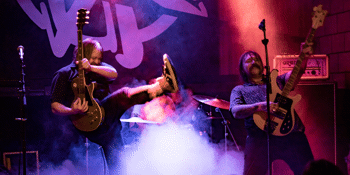 Warped 30th Anniversary Show
Barwon Club Hotel (South Geelong, VIC)
Saturday, 21 May 2022 7:00 PM
Mask, QR code check in & proof of double vaccination mandatory upon entry.

7PM DOORS
7:30-8:10PM FUTURE TONGUES
8:30-9:10PM THEE CHA CHA CHAS
9:30-10:10PM SWEDISH MAGAZINES ('I WISH LIFE COULD BE' BEST OF ALBUM LAUNCH)
10:30PM WARPED (30TH ANNIVERSARY)

We acknowledge that the Wadawurrung People of the Kulin Nation are the traditional custodians of the land on which The Barwon Club Hotel operates. We pay our respects to their elders past, present and emerging.

The Barwon Club Hotel Geelong enforces a zero tolerance harassment policy. All attendees will treat one and other with respect; regardless of race, creed, sex, age, visible and non viable disabilities, gender identity and sexual orientation. Attendees will not display verbal, nonverbal or symbolic representations of disrespectful or hateful ideology. Violation of this policy will result in immediate ejection from the venue. If you feel uncomfortable or unsafe then please do not hesitate to reach out to one of our bar tenders, security staff or door persons. Any issues will be dealt with discreetly and at your discretion.