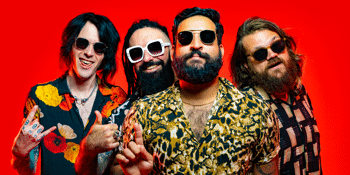 FANGZ
Social Haunts & TERRA
Barwon Club Hotel (South Geelong, VIC)
Friday, 1 October 2021 8:00 pm
Following on from their warmly received releases of 'Self Medicate' and 'Prove Me Wrong' Sydney-based punk quartet FANGZ are returning to the stage with their latest run of dates across the East Coast.
Combining a mix of postponed shows & some fresh new dates, the semi-professional punk outfit will be bringing their highly energetic show to East Coast cap cities & regional dates for an exciting taste of new music.
This continues on from selling out all shows on their Self Medicate tour, making appearances across NSW, ACT, VIC and QLD. In the live arena, FANGZ have sold out multiple headline shows and supported the likes of Comeback Kid (CAN), Cancer Bats (CAN), Gyroscope, Totally Unicorn and Bare Bones.

We acknowledge that the Wathaurong People of the Kulin Nation are the traditional custodians of the land on which The Barwon Club Hotel operates. We pay our respects to their elders past, present and emerging.