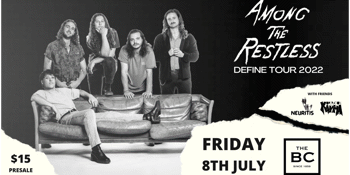 Among The Restless 'Define' Tour
Neuritis and Operation Karma
Barwon Club Hotel (South Geelong, VIC)
Friday, 8 July 2022 8:00 pm
Join Among The Restless, Neuritis & Operation Karma on Friday 8th July to celebrate the release of 'Define', the debut EP from Melbourne powerhouse Among The Restless.
Coming fresh off their set at Uncaged Festival on 7th May, Among The Restless played alongside the likes of Wolfmother and You Am I to rock down the stage.

To corroborate the release of their debut EP 'Define', the boys are setting off on a tour down the Victorian Coast, with The Barwon Club Hotel and local bands Neuritis and CRY BABY bringing the heat for ATR to rock out Geelong!

8PM DOORS OPEN
8:30-9:15PM OPERATION KARMA
9:30-10:15PM NEURITIS
10:30PM AMONG THE RESTLESS

We acknowledge that the Wadawurrung People of the Kulin Nation are the traditional custodians of the land on which we operate. We pay our respects to Indigenous Elders past, present and emerging. Sovereignty has never been ceded. It always was and always will be, Aboriginal land.