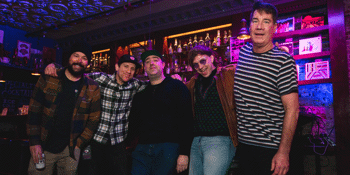 Chopdog Entertainment Presents…
Guttermouth Are Covered with Ants & Demanding Fan Requests
Wolfpack and Sacramento Sweaters
Barwon Club Hotel (South Geelong, VIC)
Sunday, 17 March 2024 5:00 pm
GUTTERMOUTH
"Are Covered with Ants and Demanding Fan Requests"
Australia & NZ March 2024

Let's try and be positive here for a minute, shall we? Can you dig what I'm saying brothers and sisters? … GUTTERMOUTH are coming back for 16 shows across Australia & NZ in March 2024 playing the whole COVERED WITH ANTS Album plus DEMANDING fans choose the rest of the setlist for each show. Yeah - think of Mark as Jesus and we are all his disciples. Like a High School Reunion, a dead river, can you Borrow some Ambition to go? For all of you who complained that they never came to Perth & Adelaide last time – Here you go, It's Chug-A-Lug Night.

Yeah we know, you've pissed away a lot of dough on this band already, what a waste of time, but on behalf of ourselves at CHOPDOG, we ask you all to add a little something to our collection plate… Request Songs and Buy Tickets here - www.chopdogentertainment.com.au/guttermouth2024

Sunday March 17, Barwon Club Hotel - 18+
5pm doors open
5:30pm SACRAMENTO SWEATERS
6:20pm WOLFPACK
7:10pm GUTTERMOUTH

We acknowledge that the Wadawurrung People of the Kulin Nation are the traditional custodians of the land on which we operate. We pay our respects to their elders past, present, emerging, future. Sovereignty has never been ceded. Always was and always will be.