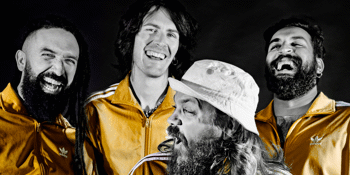 FANGZ - Won't Be Me Tour
Barwon Club Hotel (South Geelong, VIC)
Friday, 25 February 2022 8:00 pm
Mask, QR code check in & proof of double vaccination mandatory upon entry.

Following on from their extensively supported releases of 'Self Medicate,' 'Prove Me Wrong' & 'I Don't Like Me' Sydney-based punk quartet FANGZ are returning to the stage with a mammoth Australian tour in support their new single 'Won't Be Me'.
Combining a mix of postponed shows & an abundance of fresh new dates, the semi-professional punk outfit will be bringing their highly energetic show which aims to get people to party and attempt backflips in mosh pits across cap cities & regional locations of Australia in 2022.
The 'Won't Be Me' tour picks up from where their previous sold out accolades left off, having toured extensively across NSW, ACT, VIC and QLD in recent years. In the live arena, FANGZ have sold out multiple headline shows and supported the likes of Comeback Kid (CAN), Cancer Bats (CAN), Gyroscope, Totally Unicorn and Bare Bones, as well as featuring on mega festival lineups including Inverted Festival & Halloween Hysteria.
We acknowledge that the Wadawurrung People of the Kulin Nation are the traditional custodians of the land on which The Barwon Club Hotel operates. We pay our respects to their elders past, present and emerging.
The Barwon Club Hotel Geelong enforces a zero tolerance harassment policy. All attendees will treat one and other with respect; regardless of race, creed, sex, age, visible and non viable disabilities, gender identity and sexual orientation. Attendees will not display verbal, nonverbal or symbolic representations of disrespectful or hateful ideology. Violation of this policy will result in immediate ejection from the venue. If you feel uncomfortable or unsafe then please do not hesitate to reach out to one of our bar tenders, security staff or door persons. Any issues will be dealt with discreetly and at your discretion.