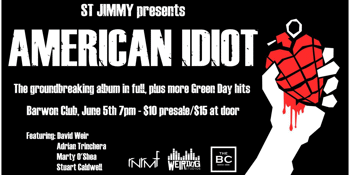 St Jimmy presents AMERICAN IDIOT
Barwon Club Hotel (South Geelong, VIC)
Sunday, 24 July 2022 7:00 pm
St Jimmy presents… AMERICAN IDIOT
From as early as 1987 Green Day were winning fans everywhere with their blend of punk rock simplicity and perfectly catchy melodies.
In 2004 they became the biggest band in the world with the release of American Idiot - the politically charged concept album about Jesus of Suburbia spoke of disillusion with modern society and modern leaders and galvanised a new generation of disenfranchised voices.

St Jimmy is the other main character in the American Idiot story, and the namesake for the group that has formed to bring you this iconic album, in full, at the Barwon Club on Sunday 24th July along with a selection of the other Green Day hits that have become radio staples over the last 30 years.
With 24 tracks over 2 sets, this will be a huge night of tunes not to be missed!
$10+bf pre sale tickets
$15 door tickets
Kitchen open 2-8pm
We acknowledge that the Wadawurrung People of the Kulin Nation are the traditional custodians of the land on which we operate. We pay our respects to Indigenous Elders past, present and emerging. Sovereignty has never been ceded. It always was and always will be, Aboriginal land.