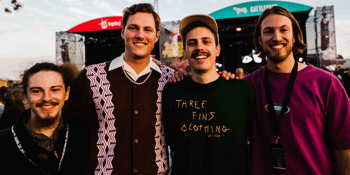 Jem Pryse 'SEEK' Album Launch
Maddy May and Lucy Elle
Barwon Club Hotel (South Geelong, VIC)
Sunday, 17 July 2022 6:00 pm
Bedroom producer Jem Pryse is hitting The Barwon Club for his album launch 'SEEK' tour of Victoria.
On the back of His Groovin The Moo appearance, Jem is keen to finally give his loyal and recent fans a performance of his own music that he has been writing while cooped up at home in lockdown.
Within just one month Jem has:
- Released an album 'SEEK'
- Performed at Groovin The Moo
- Triple J Unearthed Artist of the Week
- Reached +1mil Spotify streams for his discography.
Jem's music is largely inspired by soul, jazz and funk and is difficult to fit into one genre. Think a mix of intimate and energetic, sitting down and having a boogie, listening and singing along.
Jem Pryse on Spotify: https://open.spotify.com/artist/1CDX1379u3E0q0Plubnmvr?si=IlV2JEGeQ5mIH4dCMtBN4A
6:30PM - LUCY ELLE
7:20PM - MADDY MAY
8:20PM - JEM PRYSE (Solo)
9:20PM - JEM PRYSE (Band)
Note from Jem: Hey Geelong crewww, so keen to party with you gremlins! Make sure to get there early to hear Lucy and Maddy carving it up :))

We acknowledge that the Wadawurrung People of the Kulin Nation are the traditional custodians of the land on which we operate. We pay our respects to Indigenous Elders past, present and emerging. Sovereignty has never been ceded. It always was and always will be, Aboriginal land.