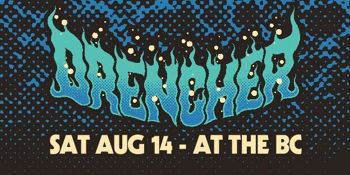 DRENCHER FESTIVAL
Barwon Club Hotel (South Geelong, VIC)
Saturday, 12 February 2022 4:00 pm
Mask, QR code check in & proof of double vaccination mandatory upon entry.

Drencher Festival: A head crushing, pants wetting tsunami of hard hitting music falling on Geelong Saturday February 12th.
4PM DOORS OPEN
MUNITIONS
BLUNTED
THE ARCHANAN
VOIDFALL
THE BONES OF GOD
VEXATION
HIDDEN INTENT
NEMESIUM
I AM DUCKEYE
IN MALICE'S WAKE
Poster art by God Awful.
We acknowledge that the Wathaurong People of the Kulin Nation are the traditional custodians of the land on which The Barwon Club Hotel operates. We pay our respects to their elders past, present and emerging.