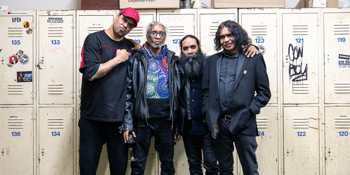 No Fixed Address 'Sunset' tour
With Sarah Carroll and Mick Ryan
Barwon Club Hotel (South Geelong, VIC)
Thursday, 7 December 2023 7:00 pm
AMC SA Music Hall of Fame band No Fixed Address, who had a laneway in Adelaide named after them, will be heading to Geelong as part of their national Sunset Tour. The national tour is to promote 'No Fixed Address', the new biography, available May 2023. The book was written by close friend Donald Robertson.

The band performed throughout Australia and Europe during the 80s performing on national and international television music programs and international festivals. They co-starred in a road movie Wrong Side of the Road which won the Jury prize for best picture at the AFI awards in 1981 where their music was nominated for best soundtrack. The band signed to mushroom publishing in 1982 and released their debut album 'From My Eyes' on Rough Diamonds records produced by Little River Band great David Briggs.

The show will feature co-founding original members Bart Willoughby, Ricky Harrison and new members Sean Moffatt, lead guitar and Tjimba Possum Burns on bass.

'Thanks to all the good people who came out to support No Fixed Address in 2021. Please come along and listen to the uplifting music of Australia's premier first nations band, and allow us all to thank you all for your continued support' - NFA

With special guests Sarah Carroll and Mick Ryan.

We acknowledge that the Wadawurrung People of the Kulin Nation are the traditional custodians of the land on which we operate. We pay our respects to Indigenous Elders past, present and emerging. Sovereignty has never been ceded. Always was and always will be.