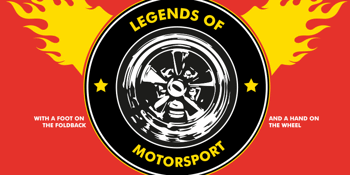 Legends Of Motorsport
With Peeping Tom and Sacramento Sweaters
Barwon Club Hotel (South Geelong, VIC)
Sunday, 25 February 2024 4:00 PM
Dear Motorsport fans,

Since Team Legends decided that it was time to call it a day 6 long years ago the world has been riven with war, pandemic and political strife. We believe the timing of these events is no coincidence. In these uncertain times we here in Camp Legends have been thinking deeply about the problems the world is facing and how we could play our humble part in reversing the perilous course of world events.

After much consideration, we have reached the conclusion that what the world and indeed the human race desperately needs is ANOTHER BUNCH OF SELF INDULGENT OLDIES REFORMING TO SHART OUT THEIR NON-HITS OF YESTERYEAR!

That's right folks, you heard it here first. Team Legends are bringing their patented brand of rock and roll chaos back for just a few special shows to remind the world what a good time looks like.

Come and veer wildly down memory lane with a foot on the foldback and one hand on the wheel at the Barwon Club in Geelong on Sunday afternoon Feb 25th with bowel vibrating Peeping Tom and rocking locals Sacramento Sweaters.

Team Legends.

We acknowledge that the Wadawurrung People of the Kulin Nation are the traditional custodians of the land on which we operate. We pay our respects to their elders past, present, emerging, future. Sovereignty has never been ceded. Always was and always will be.