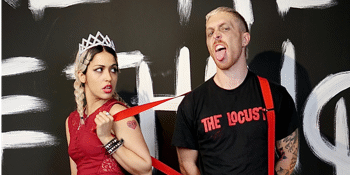 B. Bookings presents
PROM NIGHT
MANNEQUIN DEATH SQUAD, DEAD, BABY MULLET, BABY 8, HEAVY AMBER, EYEROLL, VON STACHE, THE BOOBY BOYS & DJ WRMBOY
Barwon Club Hotel (South Geelong, VIC)
Saturday, 8 October 2022 4:00 pm
B. Bookings presents…
★PROM NIGHT★
Think Carrie vs Napoleon Dynamite; a mash of all things tacky, weird and wonderful featuring hand painted decorations, shimmering goodness and of course… a stellar stacked lineup of bands!

We'll be dressing up the entire band room, so dress up yourselves! Traditional or unconventional, whatever your take on PROM NIGHT may be, we want to see it.
★ PRIZES TO BE WON ★
Cast your votes for…
☆ Best dressed
☆ Worst dressed
☆ Crowning of the King & King
☆ Crowning of the Queen & Queen
Featuring acts…
★ MANNEQUIN DEATH SQUAD
☆ DEAD
★ BABY MULLET
☆ BABY 8
★ HEAVY AMBER
☆ EYEROLL
★ VON STACHE
☆ THE BOOBY BOYS
Plus DJ WRMBOY layin' down tracks between and after the bands till 1am.
HAPPY HOUR 4-6PM

We acknowledge that the Wadawurrung People of the Kulin Nation are the traditional custodians of the land on which we operate. We pay our respects to Indigenous Elders past, present and emerging. Sovereignty has never been ceded. It always was and always will be, Aboriginal land.