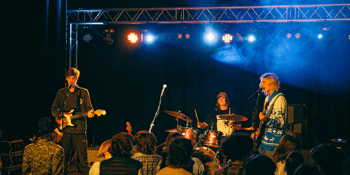 GOODWOOD
With special guests Uncle Umma and Sun Kings
Barwon Club Hotel (South Geelong, VIC)
Thursday, 18 August 2022 7:00 pm
Join us for a cheeky Thursday gig featuring local three piece rock band GoodWood.
With support from Melbourne mates Uncle Umma and Surf Coast legends Sun Kings.

Uncle Umma are heavily inspired by 60s psychedelia, alongside dance music's punchy drum breaks.
Sun Kings are no stranger to the local music scene, formerly known as Mink Mila, the four piece act bring big energy and good vibes only to their sets.

7PM DOORS OPEN
7:20-8:00PM SUN KINGS
8:15-8:55PM UNCLE UMMA
9:10PM GOODWOOD

We acknowledge that the Wadawurrung People of the Kulin Nation are the traditional custodians of the land on which we operate. We pay our respects to Indigenous Elders past, present and emerging. Sovereignty has never been ceded. It always was and always will be, Aboriginal land.