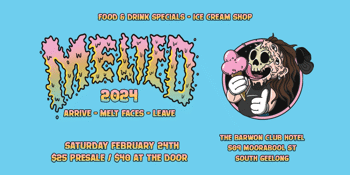 MELTED FESTIVAL 2024
Barwon Club Hotel (South Geelong, VIC)
Saturday, 24 February 2024 4:30 pm
MELTED FESTIVAL IS BACK BAY BAY!!

After an interesting year of inclement Victorian weather, MELTED FESTIVAL has a new home in the new year, 2024. Now on at the back end of summer, we hope to put smiles on faces again with our reliable lineups of Alternative rock and metal music.

With February already looking heavy AF with international bands touring left, right and center, why not fill out your busy metal month with a ticket to MELTED.

We have a lineup of 7 fantastic local acts, soon to be announced, who are sure to kick serious ass all over The Barwon Club Hotel.

Grab some mates together and come and enjoy the next instalment of the legendary MELTED FESTIVAL

Saturday February 24th 2024 4.30pm - close.

We acknowledge that the Wadawurrung People of the Kulin Nation are the traditional custodians of the land on which we operate. We pay our respects to their elders past, present, emerging, future. Sovereignty has never been ceded. Always was and always will be.