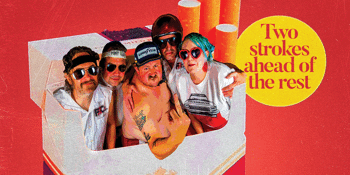 GRINDHOUSE 'SEX, PUNK, POWER' ALBUM LAUNCH
Juliette Seizure and The Tremor-Dolls, Blowers, Sacramento Sweaters, Electric Purrs & Rockafella
Barwon Club Hotel (South Geelong, VIC)
Saturday, 5 February 2022 5:00 pm
Mask, QR code check in & proof of double vaccination mandatory upon entry.

After a 3 year dry spell (we all know them), Grindhouse are back with it's fourth studio album entitled 'SEX, PUNK, POWER.'
Recorded in Frankston then mixed and mastered in Los Angeles, California by Steven McDonald (Melvins, OFF!, Red Kross.) It's 12 tracks of pure punk rock action with the addition of Shannon Cannon aka Candy Cocaine, to bring a new sound to the line up.
We've invited some killer bands to join the party in Juliette Seizure and The Tremor-Dolls, Blowers, Sacramento Sweaters, Electric Purrs & Rockafella!

5:30PM DOORS OPEN
6-6:40PM ROCKAFELLA
7-7:40PM ELECTRIC PURRS
8-8:40PM SACRAMENTO SWEATERS
9-9:40PM BLOWERS 10-10:40PM
JULIET SEIZURE & THE TREMOR-DOLLS
11PM GRINDHOUSE
We acknowledge that the Wathaurong People of the Kulin Nation are the traditional custodians of the land on which The Barwon Club Hotel operates. We pay our respects to their elders past, present and emerging.