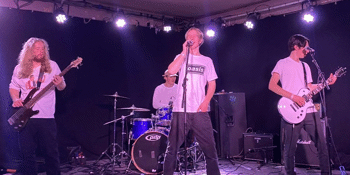 Slide My Way 'Mr Wilding' Single Launch
Finbar Cleary & Violet
Barwon Club Hotel (South Geelong, VIC)
Thursday, 9 December 2021 7:00 PM
Join Slide My Way as they launch their new single, 'Mr Wilding', supported by their good friends, Finbar Cleary and Violet.
Mask, QR code check in & proof of double vaccination upon entry.
7PM DOORS
7:30-8:10PM VIOLET
8:30-9:10PM FINBAR CLEARY
9:30PM SLIDE MY WAY

We acknowledge that the Wadawurrung People of the Kulin Nation are the traditional custodians of the land on which The Barwon Club Hotel operates. We pay our respects to their elders past, present and emerging.