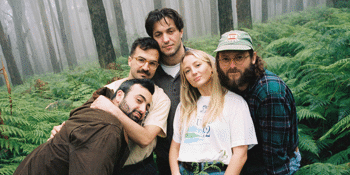 Viceroyalty & Select Music Present
Approachable Members Of Your Local Community 'Just Say It' Tour
Barwon Club Hotel (South Geelong, VIC)
Friday, 11 February 2022 8:30 PM
Viceroyalty & Select Music Present..
Approachable Members Of Your Local Community
Just Say It Tour
With Special Guests

Feeling bolder with their musical offerings than ever, beloved Melbourne indie-pop band Approachable Members of Your Local Community returned re-invented in 2021 with their striking new single, 'Strong Enough', an anthemic post-love story which also introduced their newest member, vocalist Sage Mellet. In November, the Members backed it up with an equally compelling offering, "Just Say It", their love-letter to honest and open communication. From touring the southern seas with Lime Cordiale, Polish Club and Half Alive (USA), as well as sold out national headline tours under their belt, the Members' live show delivers a public benefit the Community knows and loves. The renewed Approachable Members will hit the road nationally in February 2022 to commemorate the latest musical chapter in their young careers.
Mask, QR code check in & proof of double vaccination mandatory upon entry.
We acknowledge that the Wadawurrung People of the Kulin Nation are the traditional custodians of the land on which The Barwon Club Hotel operates. We pay our respects to their elders past, present and emerging.

The Barwon Club Hotel Geelong enforces a zero tolerance harassment policy. All attendees will treat one and other with respect; regardless of race, creed, sex, age, visible and non viable disabilities, gender identity and sexual orientation. Attendees will not display verbal, nonverbal or symbolic representations of disrespectful or hateful ideology. Violation of this policy will result in immediate ejection from the venue. If you feel uncomfortable or unsafe then please do not hesitate to reach out to one of our bar tenders, security staff or door persons. Any issues will be dealt with discreetly and at your discretion.