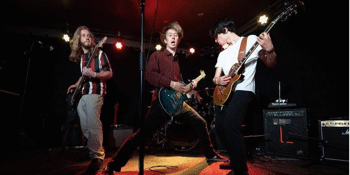 LIVE AND KICKING 2.0
Slide My Way, Dysphoriac, The Foxhounds, Mongeese, Patrick Consedine, Finbar Clearly, DJ Micoduct
Barwon Club Hotel (South Geelong, VIC)
Sunday, 3 July 2022 2:30 pm
Following on from the success of last year, "Live and Kicking 2.0" aims to showcase once again the very best the Geelong Live music scene has to offer, featuring an electric line-up of local musicians guaranteed to recharge your love for live music.

Kicking off at 3pm with a collection of solo artists, switch into overdrive as Mongeese, the Foxhounds, Dysphoric and Slide My Way take to the stage, followed by DJ Micoduct as he and his decks carry you well into the night.

Come on down and support your own at the Barwon Club on Sunday the 3rd of July for what will be a night of unrivalled entertainment and see for yourself that music in Geelong is still alive and kicking.

2:30PM DOORS OPEN
3:00-3:30PM FINBAR CLEARLY
3:45-4:15PM PATRICK CONSEDINE
4:30-5:00PM MONGEESE
5:15-5:45PM THE FOXHOUNDS
6:00-6:30PM DYSPHORIAC
6:45-7:30PM SLIDE MY WAY
7:30PM DJ MICODUCT

We acknowledge that the Wadawurrung People of the Kulin Nation are the traditional custodians of the land on which we operate. We pay our respects to Indigenous Elders past, present and emerging.